Refresh your hands and feet with these specialized services utilizing natural skincare ingredients. All of our treatments provide therapeutic and revitalizing benefits for the most abused but often neglected areas of our body. Masks, mud, paraffin wax, creams, lotions, oils and/or gels provide immediate results and relief for your well deserved hands and feet.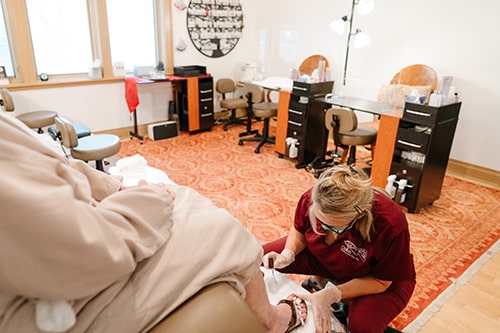 Beautify your hands with this deluxe personalized treatment. First your hands are gently cleansed and exfoliated, followed by a specialized mask that lightens and evens out skin tone while promoting healthy cell renewal. A moisturizing paraffin treatment is applied followed by cuticle care, buff and polish. The ultimate pampering for your well deserved hands.
This traditional treatment starts with a warm soak and gentle cleansing for both hands and feet. Included with this treatment is gentle callus filing, cuticle care, buff and polish.
Regenerate your feet with this personalized treatment ideal for deeply dehydrated skin, hardening of the heels and heavy calluses. This service begins with the spa pedicure followed by products containing salicylic and glycolic Acids applied to soften, exfoliate and smooth the skin. Also includes a paraffin treatment, while the lower legs receive a relaxing massage.
Enhance your manicure and/or pedicure results with:
Mask and Exfoliation Treatments are applied to the forearms and hands, lower legs, and feet unless noted.*